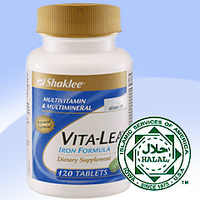 Multi vitamin & Multi mineral
Multi yang Hebat
Suplemen seimbang dan komprehensif yang dihasilkan dengan Sains terbaik Shaklee yang mampu dibeli. Vita-Lea dirumus khas bagi memenuhi keperluan 28 vitamin dan mineral penting yang diperlukan oleh orang dewasa.
Jika diambil setiap hari, Vita-Lea mampu:
• Membantu dalam mengekalkan kesihatan yang baik.*
• Mengandungi beta karotena yang membantu dalam mengekalkan pertumbuhan, penglihatan dan
pembinaan tisu.
• Mengandungi kalsium, fosforus dengan vitamin C dan D untuk kesihatan tulang dan gigi.
• Biotin dan asid pantotenik membantu untuk memetabolismekan lemak dan karbohidrat dalam tubuh
• Vitamin B12 membantu dalam pembentukan sel-sel darah merah.*
Produk ini mengandungi alfalfa (Medicago sativa). Individu yang menghidap lupus eritematosus sistemik perlu meminta khidmat rundingan pakar sebelum mengambil produk ini.
Tiada tambahan perasa tiruan, pemanis, bahan pewarna atau pengawet.
DISCLAIMER:
The products and information found on vitaminderoyale.blogspot.com are not intended to replace professional medical advice or treatment. Our information is not intended to diagnose, treat, cure or prevent any disease or medical condition. Results of testimonials are not typical and individual results may vary.
Vita-Lea® Iron Formula