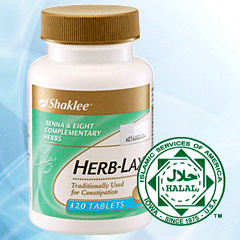 Herb-Lax
TM
Shaklee didatangkan dengan kombinasi herba yang telah digunakan secara tradisional untuk melegakan sembelit dan meningkatkan proses pencernaan secara lawas.*
Bagi menangani kesulitan membuang air besar, Herb-Lax
TM
yang lembut boleh membantu.
Produk ini mengandungi alfalfa (
Medicago sativa
). Individu yang menghidap lupus eritematosus sistemik perlu meminta khidmat rundingan pakar sebelum mengambil produk ini.
Tiada perasa tiruan, pemanis, pewarna atau bahan pengawet tambahan.
read more

DISCLAIMER:
The products and information found on vitaminderoyale.blogspot.com are not intended to replace professional medical advice or treatment. Our information is not intended to diagnose, treat, cure or prevent any disease or medical condition. Results of testimonials are not typical and individual results may vary.
Herb-Lax™